Podcasts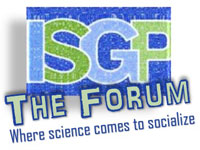 "The Forum" is ISGP's bi-weekly audio podcast in which your hosts break down the debates that occurred at past ISGP conferences. Each episode puts today's hot-button issues in the context of your life by translating the topics discussed by experts into an informal conversation. It's the information you want about food safety, infectious disease, and climate change, presented in a way that puts you in-the-know without requiring you to break out your old college textbooks. The Forum is truly where today's science comes to socialize.
Meet Your Hosts
Conveniently, the hosts of The Forum are both ISGP and social media enthusiasts. With plenty of experience in science, as well as constructing 140-character commentaries, they are the ones who condense pages of ISGP conference reports into the concise yet thorough dialogues that you hear during podcast episodes. The hosts encourage you to communicate with them via social media using #ISGPForum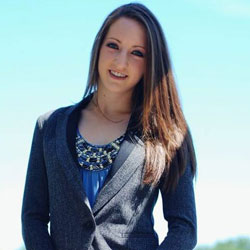 Aubrey is a graduate student at Princeton University pursuing a Ph.D. in Inorganic Chemistry. Previously, she earned B.S. degrees in Chemistry and Biology from Ursinus College, ISGP's first IAP institution. Her favorite form of social media is Twitter, where she enjoys commenting on science, society, and the San Francisco Giants.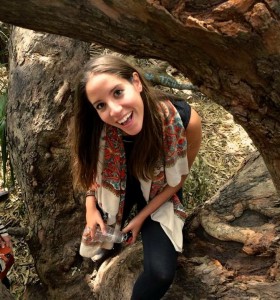 Daniela Baeza (@DFBee)
Daniela is currently a Senior Fellow with the ISGP and a human rights intern at the United Nations. She received B.A. degrees in International Relations/Global Affairs and Political Science from Eckerd College, and she is now pursuing a Master's degree in International Development Management from the London School of Economics. Daniela's favorite form of social media is Facebook, where she claims to keep in touch with friends but is most likely watching videos of baby animals.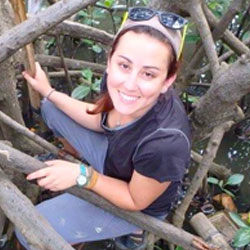 Cleo is an Eckerd College graduate with a B.A. in Literature and Environmental Studies. Her love for studying food systems is leading her through some obscure farming adventures all over the globe before eventually pursuing a graduate degree in the near future. Her social media outlet of choice is Instagram, where her posts consist mainly of plants and cats.
Listen To The Forum Podcasts

David Fisman
You've heard about climate models, but how about disease models? Disease models are tools that can help predict – and therefore prevent – the spre...

Eliot Herman
Our world faces a challenge: we need more animal protein to feed humans...and to feed the animals that feed the humans. One strategy to achieve this g...

Dr. Vanessa Hayes
What will it take for genomic technologies to reach and help the people who need them most?  According to the World Health Organization, or...

Devanjan Sikder, D.V.M., M.S., Ph.D.
Type-2 diabetes is a major health burden, and coordinated care for this disease and its co-morbidities is not well-established. What steps can be take...
Devanjan Sikder, D.V.M., M.S., Ph.D
Type-2 diabetes (T2D) affects more than 300 million people worldwide and accounts for close to half a trillion dollars annual burden on the world econ...

Dr. Sharon Megdal
The Colorado River Basin has made efforts in water management that could be applicable to other parts of the world facing a water-...

Markus Schmidt
You've heard of DNA, but what about XNA? XNA is a product of xenobiology, which is the development of new organisms using a genetic code tha...

Linda Duffy
Fermenting foods might be a culinary fad, but could it also be a key to food and nutritional security of the future? Lactic acid bacteria  are the...

Rachael Goldstein
What are the biggest sources of food waste at different levels of the food system, and what can corporations do to prevent food losses? &...


The problem with alternative sources of energy and water is that it is hard to overhaul a fully developed system.  Our infrastructure must be prepare...